When it comes to working at height, working safely should never be compromised. It becomes particularly challenging and risky when dealing with rooftops, a scenario where a simple misstep can result in severe injuries or even fatalities.
This is where a rooftop walkway, such as the Kee Walk, comes into play.
Kee Walk provides a safe, non-slip, level walking surface for anyone needing access to a roof during work.
This guide aims to walk you through the essentials of working safely at height with a rooftop walkway, equipping you with the knowledge and practices to deliver your work efficiently and, most importantly, safely to relevant height regulations.
Choosing Fall Protection when working at height
When working at height, fall protection is the first and most crucial element of your rooftop walkway.
The hierarchy of control when working at height is vital in managing risks associated with working at height. It helps determine the most effective measures to prevent accidents and reduce the fall risk.
Elimination: The most effective measure is eliminating the need to work at height altogether. This is the best solution if the task can be done on the ground or from a lower level.

Substitution: If elimination is not feasible, consider substituting the hazard with a less risky alternative and, for instance, using equipment or machinery to access high areas instead of manual operations.

Engineering Controls include alterations to the working environment or equipment that can help reduce the risk. A good example is using a Kee Walk rooftop walkway that provides a level, non-slip surface for safe movement.

Administrative Controls: These involve changing the way people work. This could include providing comprehensive training, implementing safe work procedures, and scheduling regular breaks to prevent fatigue.

Personal Protective Equipment (PPE): This is the last line of defence and should only be relied upon when all other measures are impossible or do not eliminate the risk. PPE can include harnesses or lanyards for fall restraint or arrest systems.
Remember, the safety measures you adopt should be proportional to the level of risk involved in working at height. Always prioritise the highest level of the hierarchy of your control measures where possible.
Types of Working at Height Equipment
Several types of equipment are available to ensure safe access when working at height.
Guardrails - These are barriers installed along the edge of a rooftop or balcony to prevent falls. They consist of vertical posts and horizontal top rails, which can also be supplemented with toe boards for added protection.
Safety Gates - Kee Gate installed at access points, such as ladders or stairways, and provide an additional layer of protection when used in combination with guardrails.

Anchors/Connectors - Kee Anchor provides a secure point for attaching safety lines or devices. They are typically mounted to the structure of a building or rooftop and can be used with harnesses.

Rooftop Walkways - Rooftop walkways, such as Kee Walk, provide a safe path of travel across rooftops and are designed to be both strong and lightweight. They provide an even surface for workers to walk on, reducing the risk of slipping or tripping.

Safety Lines - Kee Line is installed along the edge of a rooftop to act as a fall restraint or fall arrest system. The user is connected via a lanyard to a lifeline system that spans a section of the roof. The fall restraint system allows the worker to navigate the roof safely and handsfree but prevents the user from reaching the edge. When used in fall arrest, the user is able to reach the roof edge to carry out their duties such as facade access and maintenance, however should a fall take place, the system will slow the decent, catch the user and prevent them from reaching the floor, thus 'arresting' the fall. This is used as the final solution should all other solutions be unsuitable.

Harnesses - A harness is a fundamental piece of Personal Protection Equipment used as the body connection point to various personal protection solutions that are available. they come in various types, a 2-Point harness combines a dorsal attachment with an additional sternal attachment at the front, while the 3-Point harness incorporates a dorsal attachment and includes two extra attachment loop points positioned on the waist. As for the 4-Point harness, it features both dorsal and sternal attachment points, along with two additional attachment loop points on the waist. Harnesses connect to an anchor point to keep the worker in place should they slip or trip.
It is crucial to select and install the correct type of equipment according to the working environment and tasks that will be carried out.
When Personal Protective Equipment Isn't Enough
The 'Working at Height Hierarchy of Control' is a system used to manage and minimise the risks associated with working at height.
This systematic approach, which puts collective protection measures before personal protection, advocates for implementing preventative measures first. This includes using rooftop walkways, guardrails, and other collective systems that can protect all workers on the site.
Following this, personal protection measures such as safety harnesses or fall arrest systems are considered if residual risks remain.
By prioritising collective protection when conducting a risk assessment, the chance of falls when working at height is mitigated at the source, safeguarding a larger number of workers simultaneously and creating a safer working environment overall.
What is a Rooftop Walkway?
A rooftop walkway is a safe, non-slip surface that provides a level walking platform for anyone needing access to a roof during work. They offer an effective solution to working at heights and are designed to reduce the risks of personal injury associated with falls from heights.
A rooftop walkway system is utilised in environments where regular access to the rooftop is required for maintenance tasks, routine inspections, or installations.
It's a critical component when working at height, including construction, installation of HVAC systems, and telecommunications.
The system mitigates risk by providing a dedicated, levelled pathway that allows safe navigation across the rooftop surface.
It's typically constructed from slip resistant materials which significantly reduce the likelihood of slips and falls, thus ensuring worker safety. Additionally, rooftop walkways can be combined with guardrails for extra protection, further decreasing the risk of accidents associated with height and uneven surfaces.
The Kee Walk is one such system that offers superior protection and performance. It consists of modular components made from lightweight yet strong aluminium, which can be customised to fit any roof size and shape. The slip resistant grating ensures maximum safety with minimal effort for anyone using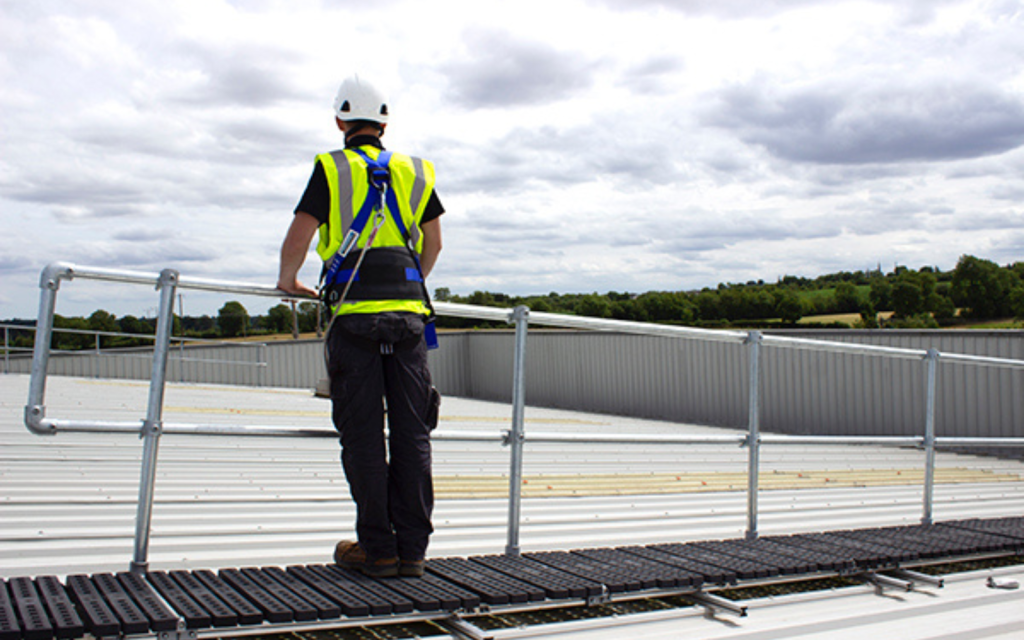 Introducing Kee Walk
Kee Walk is an innovative rooftop walkway system that provides a safe access solution for working at height. It consists of modular components made from lightweight yet strong aluminium and can be installed on any roof size or shape.
The non-slip grating provides maximum safety for properly trained workers and anyone using the system with minimal effort required. Kee Walk also has many built-in safety features, such as guardrails, anti-slip treads and OSHA-compliant mid-rail systems. This ensures that anyone using the system is protected from any potential risks associated with working at height.
Kee Walk is an ideal solution preventing falls, for those who need to access areas on a roof safely and efficiently. It can be used with other fall protection equipment, such as harnesses and lanyards, to provide the highest level of safety for anyone working at height.
Reduce Personal Injury
Working at height can be a dangerous activity if not managed properly. You must use the right equipment and adhere to all safety procedures to minimise risks associated with falls from heights Kee Walk is an innovative solution that provides a safe, non-slip surface for anyone needing to access a roof. It is designed to ensure maximum safety with low risk and minimal effort and can be used with other fall protection equipment.
Following this guide, you should have the necessary knowledge and practices to safely work at height using Kee Walk and other rooftop walkways. With the proper knowledge and equipment, you can protect yourself from any potential dangers of working at height.
Finally, always remember that safety is paramount when working at height - never take shortcuts or compromise on safety procedures when working at height regulations. Your wellbeing and that of your team depend on it.