Roof safety systems are designed to protect workers from slips, trips and falls while working on a roof. These systems can prevent, restrain, arrest, or even eliminate the need for workers to be at heights in the first place.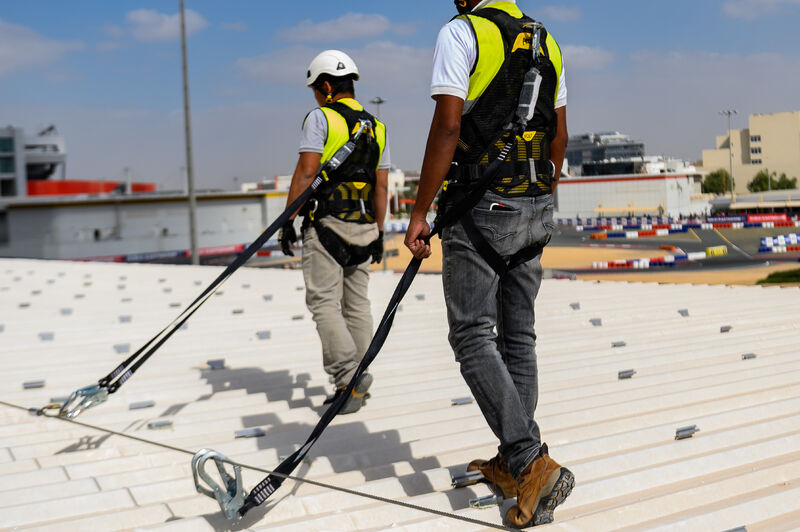 This blog post will discuss the different types of roof safety systems, certification requirements under the Safety, Health & Welfare Act 2007, and the benefits of installing these systems.
Fall Elimination
Eliminating the need for working at height altogether is the most desired height safety solution. For example, moving plant machinery or air conditioning units to ground level for easy and accessible maintenance work is by far and away the safest controlled measure than any work being carried out at height.
With this said, it is not always possible to eliminate the need to work at height; therefore, it is important to follow the Hierarchy of Control to determine what roof safety system is right for you.
More information about controlled measures can be found on our infographic for the Hierarchy of Control https://www.safesite.co.uk/blog/hierarchy-of-control.
Types of Roof Safety Systems
Three types of protective equipment can be installed within a roof safety system; fall prevention, arrest, and elimination.
Fall Prevention
Fall prevention systems include multiple pieces of equipment, both personal and collective.
Guardrails
Guardrail systems come in fixed and freestanding options and provide workers with a barrier between them and potential slips or falls. Kee Guard is a modular guardrail system that can be freestanding or fixed and, if required, can be folded away from view.
They are fundamental in fall protection systems and can cover various roof types due to their easy-to-install and often fully modular design, which allows for quick and regular access to the roof space of domestic, commercial and industrial buildings.
Fall Restraint
This type of fall prevention system requires personal protective equipment (PPE) and training, and prevents users from reaching the edge of a rooftop, thus eliminating the fall hazard.
This fall protection system provides safe access to personnel working on surface equipment, such as maintenance on solar panels or air conditioning units.
Harnesses
Safety harnesses are a vital piece of personal protective equipment that helps prevent falls from heights by securely attaching the user to an anchor point via a lanyard.
Man Anchors
Safety anchors such as eyebolts, beam anchors or freestanding anchors provide a secure connection point for users to clip on to using a lanyard.
Horizontal lifelines
Horizontal lifelines are an effective form of fall protection that provides a continuous connection point fixed to an anchor along an elevated work surface, allowing workers to move unrestricted whilst being securely connected.
Modified for Shock-Absorption
Fall restraint systems can be modified with shock-absorbing mechanisms such as self-retracting lanyards and energy absorbers, turning them into fall arrest systems that stop a person who has already fallen from hitting the ground.
Fall Arrest
Like fall restraint, a fall arrest system typically includes full-body harnesses attached to either anchors or lifelines, but with a few key differences.
Firstly, they are designed for users that require access to the edge of a rooftop to carry out their duties such as gutter and facia cleaning and maintenance. The system enables them to extend over a roof's edge or anywhere high above the ground and have shock-absorbing mechanisms in place to safely catch a user should they accidentally fall.
Additionally, fall arrest systems are specifically designed to withstand the forces of a falling worker and safely catch them in the event of a fall. Usually, this means using shock-absorbing anchors with a lifeline and harnesses.
Recertifying your Equipment
Non-compliance with the latest standards in your fall protection equipment could result in serious injury or worse, which could severely impact your business.
As such, ensuring your roof space meets all requirements for safe access before they are used is vital.